Dr. Cochran Wins 'Best Special Topic Paper' in Esteemed PRS Journal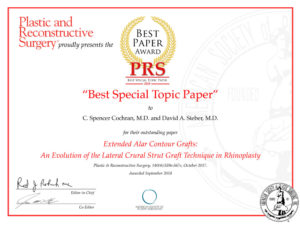 On the heels of being named to the exclusive list of Texas Super Doctors® for 2019, we are excited to announce that Dr. C. Spencer Cochran has earned another prestigious accolade: "Best Special Topic Paper" in the Plastic & Reconstructive Surgery (PRS) journal.
The article—titled, "Extended Alar Contour Grafts: An Evolution of the Lateral Crural Strut Graft Technique in Rhinoplasty"—was co-authored by Dr. Cochran and Dr. David Sieber and covers an innovative technique for nasal tip reshaping known as an extended alar contour graft. In short, the extended alar contour graft combines the positive elements of two traditional tip-shaping methods, creating an evolved and versatile way to achieve an optimal nasal tip contour in many rhinoplasty patients.
Dr. Cochran continually strives to advance nasal surgery techniques and outcomes, and the publication of this article is the latest testament to his ongoing commitment. As a true believer in physician collaboration and the sharing of ideologies for the greater good of aesthetic medicine, he is not only thrilled that the topic was well-received by his peers, but he hopes the information presented will help improve the level of care and final results received by rhinoplasty patients worldwide.
To learn more about Dr. Cochran's "Best Special Topic Paper" award, or if you are interested in rhinoplasty and wish to schedule a consultation at our practice, please feel free to reach out to Dallas Rhinoplasty Center online or by telephone today.