Primary and Secondary Rhinoplasty in Dallas-Fort Worth, Texas

Welcome to the official rhinoplasty website of Dr. C. Spencer Cochran. Our practice, the Dallas Rhinoplasty Center (formerly the Gunter Center), is located in Dallas-Fort Worth, Texas.  While Dr. Cochran focuses exclusively on primary and secondary (revision) rhinoplasty, our center also has a clinic for skin care and injectables, such as Botox and fillers. For information about skin care and injectables, please visit  Gunter-Center.com.
Rhinoplasty (nose job) is a nose reshaping surgery to improve the appearance of the nose and often to correct breathing problems. Because it is one of the most technically difficult procedures in cosmetic surgery, rhinoplasty requires a strong sense of aesthetics coupled with a profound understanding of anatomy to provide an attractive, natural-looking nose that functions properly. Secondary rhinoplasty, commonly referred to as revision rhinoplasty, requires exceptional analytical and surgical skill. Only surgeons with extensive training and significant rhinoplasty experience can restore breathing function and improve less-than-desirable results from previous nose surgery. Dr. Cochran is considered as one of the top rhinoplasty surgeons and has been voted by his peers as one of the "Best Doctors in Dallas" by D Magazine.
[ Back to Top ]
Dr. Cochran – Rhinoplasty Specialist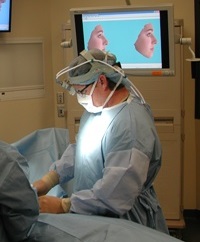 C. Spencer Cochran, MD is a highly respected rhinoplasty surgeon, hand-selected by Dr. Gunter for his knowledge and skill in all aspects of nasal surgery. Dr. Cochran's keen aesthetic eye, deep understanding of nasal anatomy, and remarkable technical proficiency allow him to strike the perfect balance between form and function. Board Certified by the American Board of Otolaryngology and a member of both The Rhinoplasty Society and the American Academy of Facial Plastic and Reconstructive Surgery, Dr. Cochran combines time-tested rhinoplasty techniques with the most cutting-edge innovations available in nasal surgery to provide the best rhinoplasty results. His focused background and surgical experience have allowed him to become a highly-skilled rhinoplasty specialist. Dr. Cochran is a featured rhinoplasty expert on RealSelf.com.
Dr. Cochran, who worked along side of Dr. Jack Gunter from 2006 until Dr. Gunter's retirement in June of 2014, is recognized by his peers as an expert in both primary rhinoplasty and secondary rhinoplasty. Like Dr. Gunter, rhinoplasty is his passion and area of expertise, and his singular dedication to developing and perfecting rhinoplasty techniques has influenced and inspired cosmetic surgeons around the world. Dr. Cochran is an invited lecturer at numerous international rhinoplasty courses including the Dallas Rhinoplasty Symposium, the American Society for Aesthetic Plastic Surgery, and the AAFPRS Rhinoplasty course, where he teaches his techniques and shares the latest rhinoplasty innovations. He is a contributor to Dallas Rhinoplasty: Surgery by the Masters, now in its third edition and recognized as the leading rhinoplasty textbook. Few aesthetic surgeons can claim the stature, prestige, and distinct contributions of Dr. Spencer Cochran.
If you are considering rhinoplasty and looking for the best rhinoplasty results, having a thoughtful, thorough consultation is one of the most important steps in selecting the right surgeon. Take the opportunity to consult with one of the leaders in primary and secondary rhinoplasty. Contact the Dallas Rhinoplasty Center for more information.
[ Back to Top ]
Who is the Ideal Candidate for Rhinoplasty?
The best candidates for nose reshaping have realistic expectations about what surgery can accomplish. Dr. Cochran carefully screens each patient to ensure that they are physically, emotionally, and financially prepared to undergo this major cosmetic procedure. During an in-person consultation, each patient will be thoroughly examined to determine if the patient is a good candidate for nasal surgery and to create an individualized surgical plan to achieve the desired goals. The Dallas Rhinoplasty Center offers Vectra 3D Imaging to simulate the proposed before-and-after results of rhinoplasty surgery.
If you are considering rhinoplasty but live outside the Dallas-Fort Worth area, the Dallas Rhinoplasty Center offers an optional Internet Consultation that helps our surgeon pre-assess your eligibility for rhinoplasty prior to visiting our office. For more information, please visit our Are You a Candidate? page.
[ Back to Top ]
Dallas Rhinoplasty: Surgery by the Masters, 3rd Edition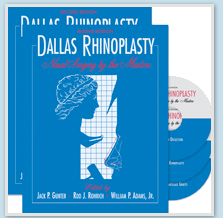 Dr. Cochran is an accomplished author and lecturers on all aspects of rhinoplasty. Dallas Rhinoplasty: Surgery by the Masters, 3rd Edition, is fast-becoming the standard for rhinoplasty texts.