Is Rhinoplasty for Me?
The best candidates for rhinoplasty have realistic expectations about what surgery can accomplish. When prospective patients visit our practice for a nasal surgery consultation with our rhinoplasty surgeon, they are carefully assessed to ensure that they are physically, emotionally, and financially prepared to undergo this major cosmetic procedure. Dr. C. Spencer Cochran is world-renowned for his advanced nose surgery techniques and exemplary results.
Common Reasons Why Patients Seek Rhinoplasty
Asymmetric Tip
Upturned Nose
Droopy Nose
Crooked Nose
Deviated Septum
Broken Nose

Low Bridge
High Bridge
Dorsal Hump
Narrow Nose
Wide Nose
Wide or Flaring Nostrils
Nostril Collapse
3D Rhinoplasty Imaging / Before & After Simulation
The Dallas Rhinoplasty Center offers VECTRA® 3D Imaging to simulate the proposed before and after results of rhinoplasty surgery. Using this advanced 3-D rhinoplasty imaging technology, Dr. Cochran can help you get an idea of how you might like to look once a rhinoplasty surgery has been performed.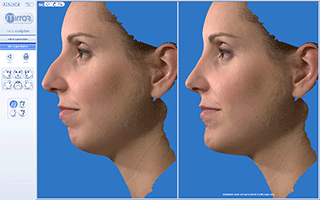 How Might I Look After Rhinoplasty?
This is often the number one question asked by anyone who is considering surgical procedures to enhance their appearance. With the advent of state-of-the-art technology… the answer is getting closer. Dr. C. Spencer Cochran can be certain that he and the patient have the same goals for the surgery before going into the operating room.
The VECTRA® 3D Imaging and Sculptor™ Software, developed by Canfield Imaging, allows our surgeon to create life-like simulations of your face and body that are designed to reflect your ideal aesthetic enhancement goals. Here's how it works: patients who are considering procedures such as rhinoplasty, breast augmentation, and other options are photographed with a 3-D camera. These images are fed into a computer, and manipulated with Sculptor™ software to show the ultimate goals of the procedure as accurately as possible.
Dr. Cochran is one of the most skilled specialists in the field of rhinoplasty, and 3-D imaging can give patients a clearer idea of how nose surgery – a procedure that can often alter the appearance of the entire face – will enhance the facial aesthetics. If you are not sure of your ultimate rhinoplasty goals, the photograph can be morphed until you see an image more in line with the results about which you are thinking. This technology also makes it much easier for you to visualize the possible results and discuss them with one of our surgeons.
The VECTRA® 3-D imaging system is also very helpful for patients who are thinking about breast augmentation. Patients can use the 3-D imaging technology to see how particular sizes and shapes of breast implants may look after they have been placed. The 3-dimensional image can be seen from a variety of angles, and the image modified should the patient decide they want a larger or smaller-size implant.
Although no technology can predict the future with 100 percent accuracy, 3-D imaging technology goes a long way in helping the patient and doctor have similar goals for the surgery. Not to mention peace of mind about having the procedure in the first place. In short, our doctors can use this technology to help you compare and contrast your proportions and give you a visual aid to assist you in making your decision.
For more information on cosmetic surgery 3-D imaging at our Dallas – Fort Worth, Texas-area practice, or to schedule a consultation with our plastic surgeon, please contact the Dallas Rhinoplasty Center.
The nose job specialists at the Dallas Rhinoplasty Center feel that a thorough consultation is vital for reaching a positive outcome. During this meeting, our surgeon thoroughly examinse each patient and determine if the patient is a good candidate for nasal surgery. The doctor will explain the surgery and create an individualized surgical plan to achieve your desired goals. He will also provide detailed pre- and post-operative instructions, which should be followed carefully to allow a speedy recovery and minimize the chances of complications.
Internet Consultation
Because we frequently serve nose job patients who do not live in the Dallas and Fort Worth areas of Texas, the Dallas Rhinoplasty Center has developed an optional Internet Consultation to determine your eligibility before you visit our office. This online nasal surgery consultation helps our rhinoplasty surgeon assess whether you are a good rhinoplasty candidate, the degree to which they can ultimately address your individual situation, and can save you a trip to Dallas if you are not a good candidate for rhinoplasty. If you are interested in completing an Internet Consultation, please carefully follow these instructions.
A $200 Internet Consultation fee must be sent with your photos and forms. If Dr. Cochran feels that you are a good candidate for nasal surgery, we will email you information about what the goals of the surgery should be, how we propose to achieve those goals, and the estimated cost of the procedure. If Dr. Cochran feels that you are not a good candidate, your money will be returned.
If you are interested in a secondary rhinoplasty consultation, be aware that our doctors will not be able to fully review your case unless a full 12 months have elapsed since your last nasal surgery.
[ Back to Top ]
[ Back to Top ]
General Health
Before undergoing any elective surgery, it is imperative that you be in good general health; this will minimize recovery time and reduce the risk of complications. Your safety and wellbeing are our doctors' highest priorities, and they want to ensure that your nasal surgery goes smoothly and that your health is not compromised during the procedure. For this reason, you must provide a complete medical history during your consultation. If there are any concerns about your overall health, our doctors will request that you obtain approval from your general physician prior to scheduling surgery.
[ Back to Top ]
Realistic Expectations
We cannot stress enough how important it is that a patient have realistic expectations about the outcome of aesthetic surgery. While rhinoplasty can significantly improve your appearance, it won't completely change your life. As dramatic as the cosmetic effects of nasal surgery can be, it is not a cure-all. It is simply a means of enhancing and refining your appearance. Those who come to our office with a positive, healthy attitude and a reasonable understanding of what a nose job can accomplish are generally quite pleased with their results.
[ Back to Top ]
Financial Readiness
Aside from the physical and emotional considerations, financial matters are often the most significant factor in determining a patient's candidacy for aesthetic surgery. It is imperative that a patient be able to manage the cost of the procedure without jeopardizing his or her overall financial stability. If nasal surgery is medically necessary (to correct breathing problems, for example), insurance may cover part of the cost. However, surgery that is performed for cosmetic reasons must be paid for by the patient.
The overall cost of the procedure depends on the complexity of each case. Generally, primary rhinoplasty is simpler and therefore much less expensive than secondary rhinoplasty, which can be complex and involve extensive grafting.
The Dallas Rhinoplasty Center  accepts cash, direct wires, verified checks, MasterCard®, Visa®, American Express®, and CareCredit®. We collect the surgeon and anesthesia fees ONLY. You must pay the facility fee directly to Texas Institute for Surgery.
If you are interested in CareCredit®, you can use the online payment calculator to calculate your monthly payment or apply online to immediately find out if you qualify.
[ Back to Top ]
Contact Our Office
To schedule an in-person rhinoplasty (nose job) consultation, please contact our Dallas-Fort Worth practice in Texas. Nose surgery expert Dr. C. Spencer Cochran will be happy to meet with you to discuss your candidacy and your ultimate goals.
[ Back to Top ]